10 Fun Family Cardio Activities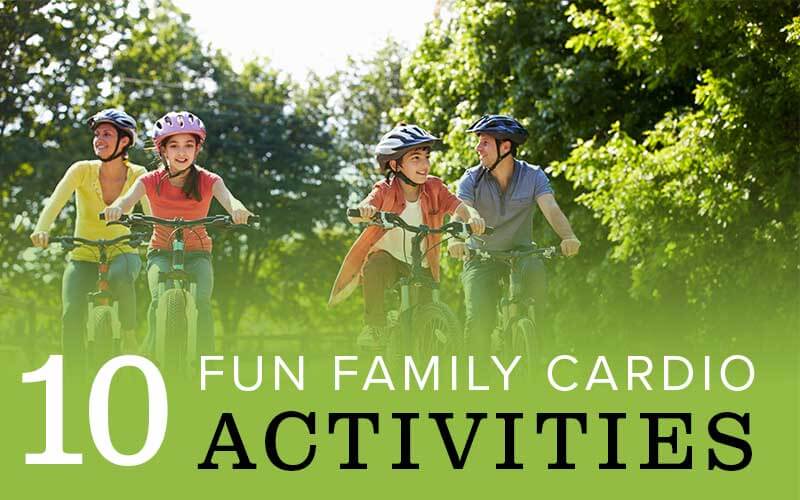 Cardio. The dreaded word. Most of us shudder at the idea of buckling up for 20-30 minutes on the "hamster wheel", while huffing and puffing, and looking at the clock every 60 seconds thinking at least six minutes has passed (or: and after three minutes thinking "I'm pretty tired. I think I'll go home now")
Well friends, fear no more. What was once a tiresome, lonely chore can now be a fun and healthy family activity. So let's get out of the gym, think outside the box, and get together for some family-friendly cardio.
Here are our top ten family cardio activities:
The zoo. Thankfully, we have these just about everywhere and regardless of how big or small it is, you can expect to walk a minimum of a mile. The best part? The whole family is distracted by the animal exhibits so it doesn't even feel like cardio. For the bigger zoos (San Diego for example) we recommend sitting down with the family and creating a list of all the animals you and your kids want to see, then planning your route in advance.
Scavenger hunt hike. Sit down as a family and have everyone come up with a few ideas of their own. Ex's: colorful leaf, beetle, purple flower, six white rocks. The first family member to spot everything on the list wins!
TAG! We can't forget about this classic.
Dance off in the living room. Since the kids are all using Tik Tok these days, there are plenty of dance "challenges." Have the kids teach you a thing or two and "bust a move."
Beachball. Get a few from the dollar store and get in the pool weather permitting (or move around some furniture and play in the living room). We find it especially exciting when we count the number of times we are able to pass the ball before it drops. Each round, try and beat your last score. (We did this over the summer and ended up having the entire neighborhood of kids in the pool shouting out numbers for over two hours – this was such an inexpensive hit!)
Sign up for a "fun run." There are tons of these all year round, like the color run aka. "the happiest run on the planet" and the bubble run. Or, find a run/walkathon for cause. If something has impacted your family, a family member, or a family friend and you want to show your support, this is a great way to get the entire family involved and to give back!
Walk the dog. It may not seem like much, but when the "purpose" of the walk is to exercise the dog, we tend to forget that we are exercising too. And our fur babies need the cardio just as much as we do.
The roller rink! While these may become a "thing of the past" thankfully there are still some out there. Put on some skates (or rollerblades) and pad up the kids in some protective gear and go rock out on that rink. (Not to mention the ab workout that inevitably ensues when Dad wipes out and Mom can't stop laughing)
Walking/riding bikes to and from school. If you are fortunate enough to live within reasonable walking distance, this is a great way for the entire family to get in some extra cardio on a daily basis. Plus, think of the perk of avoiding the never-ending "drop-off" and "pick-up" line in the morning and afternoon.
Build a treehouse or plant a garden. Whatever it is that you have the space for, pick an outdoor project that the entire family can contribute to. The process of coming up with the idea, putting it into motion, then seeing the final result ends up being a memory the entire family will cherish for a lifetime.
These ideas are about more than cardio. They are about more than fitness. They are about bringing together families. They are about creating and instilling healthy habits at a young age. They are about making memories. They are about cherishing the time that we have with our children because they grow up too fast.
Make these moments count. Don't spend another 30 minutes in the gym, alone on a treadmill because you "need" to do cardio when there is so much more out there that is so much more rewarding. Pick something off that list or get creative! Make your own healthy family activity and share the wealth. Comment below and inspire us (and everyone reading) with how you have decided to motivate your family and bond over cardio.