Increased Strength* • Enhanced Endurance* • Optimal Recovery*
The perfect non-stimulant pre-workout designed to increase workout performance, muscle pumps, and muscle recovery.*
30 Servings
Vegan
No Dyes
No WADA Banned Substances
One great reason to buy from us:

Description
supplement, supplements
Increased Strength* • Enhanced Endurance* • Optimal Recovery*
The perfect non-stimulant pre-workout designed to increase workout performance, muscle pumps, and muscle recovery.*
30 Servings
Vegan
No Dyes
No WADA Banned Substances
Usage
Directions for use: Take one serving (4 capsules) 30-45 minutes prior to exercise. On non-training days, one serving may be split: 2 capsules in the morning and 2 capsules 6-8 hours later.
Ingredients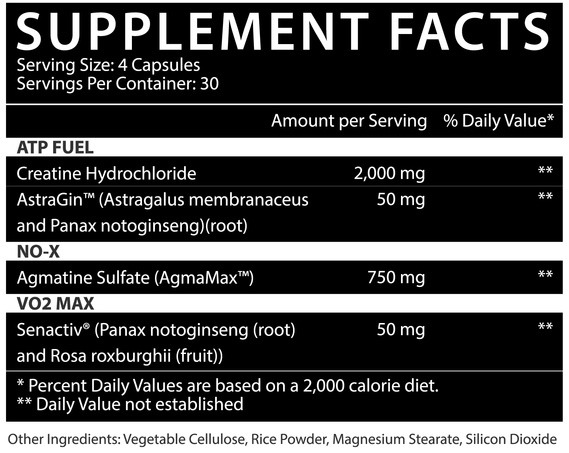 Ingredients 101
Creatine Hydrochloride is one of the most researched sports supplements in history, known for its performance-enhancing and neuroprotective properties. Compared to creatine monohydrate, creatine hydrochloride has great solubility and permeability, which decreases the amount of creatine needed to fill the muscle. This means more absorption, less creatine excretion, and less gastrointestinal discomfort than creatine monohydrate. We use a synthetic version, so it's vegan.
AgmaMax™ is a patented sulphate supplement that boosts muscle pumps.* A common natural compound, agmatine plays a role in various metabolic processes within the body, notably in the production of creatine and nitric oxide (NO). Important in the body's cardiovascular system, nitric oxide helps blood flow through the arteries by relaxing muscles and reducing the viscosity of vascular walls, contributing to increased supplies of oxygen and nutrients to the muscles.
AstraGin™ is a 100% natural compound composed of highly fractionated Astragalus and Panax Notoginseng. Multiple pre-clinical studies affirm this ingredient's ability to significantly improve the absorption of critical nutrients and amino acids, glucosamine absorption by 41.9%, and ATP production by 18%.
Senactiv®(previously known as ActigGin) is a 100% natural sports nutrition ingredient that has been shown to promote more energy and muscle preservation. It's a proprietary, all-natural, plant-based formulation derived from highly purified Panax Notoginseng and Rose Roxburghii using a pharmaceutical grade extraction and processing technology.
Other ingredients: vegetable cellulose, rice powder, magnesium stearate, silicon dioxide
Shipping & Delivery
We ship to the following 7 states ONLY: CA, NV, AZ, WA, OR, ID, and UT.
WE DO NOT DELIVER SATURDAY THROUGH MONDAY AND ALL FEDERAL HOLIDAYS.
Due to the pandemic and sourcing issues, delivery of your order can take up to a total of 10 days. 
Your order will more than likely arrive within three to five total days but we would rather under promise and over deliver. 
Rest assured we will do our best to ship your order as promptly as possible. 
Since 2012, Meats2U has always been known as a 3 day max delivery service but these are unfortunate and difficult times. When it comes to sourcing issues, we only have so much control. 
By placing your order now, you are securing your product to be placed next in line and shipped sooner than later. 
We apologize for any inconvenience and appreciate your support.  
**  This shipping protocol listed above does not apply to the "MEAL PREP" (fully cooked meals) section on the website.  That section has it's own "SHIPPING & DELIVERY" protocol, please read that section for further instructions.  
(Should you live in a remote area of a state we provide service to, our 3rd party carrier may not provide service.  Rule of thumb is if you can place an order on our website, we provide service to your area)